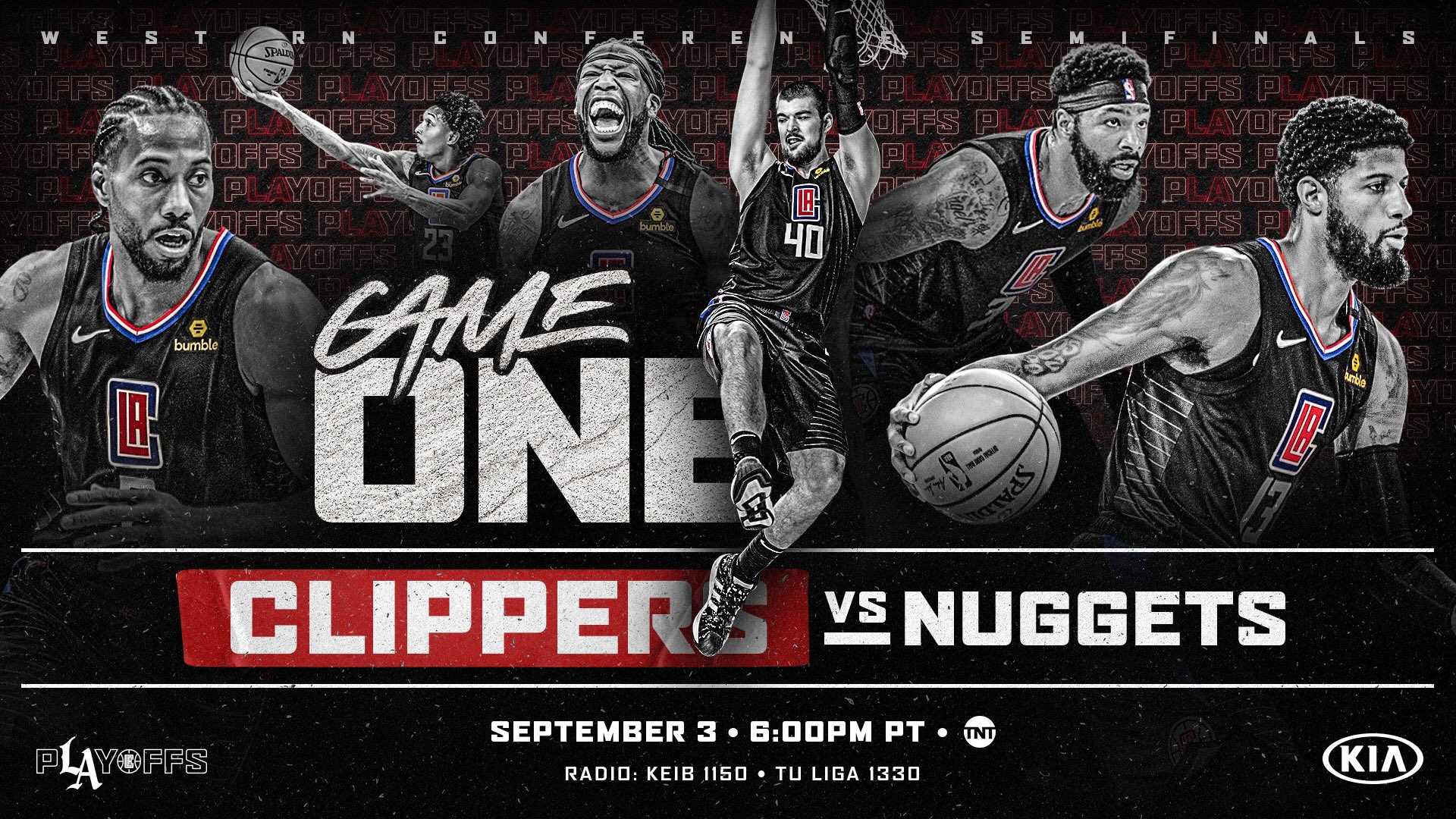 The 2nd round is set and the 2nd seeded Los Angeles Clippers are facing off against the 3rd seeded Denver Nuggets. Game 1 tips off in a little over an hour. While many may think the Clippers can cruise past the Nuggets in this series, that may not be the case. While the Nuggets don't have the best offense ever like the Mavericks did last round, they do have a few star players filled by key role players that can step up when needed. The Clippers have to be ready for the Nuggets who can dangerously catch fire easily.
Coming out of a Game 7 win against the Oklahoma City Thunder, Denver should be exhausted for Game 1 but they can fuel off their win from last game and carry that energy into this one which can be dangerous. This playoffs so far, Jamal Murray has averaged 31.6 PPG (3rd in the NBA) and Kawhi has averaged 32.8 PPG (2nd in the NBA). They are also making history in that it's the first time that two opposing players are averaging at least 30 PPG, 5 RPG, and 5 APG going into a playoff series. They have each been very efficient and that should continue to happen this series.
In order for the Clippers to win this series, they need to trust their surrounding players such as Lou Williams, Patrick Beverley, Ivica Zubac, JaMychal Green, and more. This season, Lou Williams has played very well this season against Denver averaging 22 Points in 3 games. He needs to be trusted as Denver is a team that drops Nikola Jokic a ton and Lou can easily blow by him or finish over him or just shoot uncontested jumpers on switches. With Patrick Beverley returning after only playing 1 game last series, he also needs to be on the court a lot because of his energy and defensive abilities (but he may unfortunatley be on a minutes restriction. Last series we saw Doc Rivers put lineups where there was no defense all like his Reggie-Lou-Trezz lineups that obviously didn't work. While Reggie can hit spot-up threes, he can not be trusted as on defense as it is easy to score over him, he isn't as aggressive as Beverley is, and he lacks energy at times and on offense his ball-handling is out of control. Marcus Morris is another player to keep an eye on as he has been shooting very well recently but it will be interesting to see how he responds following his ejection in Game 6 against Dallas.
This could also be a breakout series for JaMychal Green who played a very good Game 6 last series and was great last year against the Warriors. Doc Rivers needs to play JaMychal Green more than Montrezl Harrell and even play him with Zubac at times as it worked very well in Game 6. Green has a very nice shot, nice touching finish in the post, and can play pretty good defense at times whereas Harrell brings the energy but his defense is not good and he won't be will be able to guard Jokic (who plays nearly the whole game). In addition to Green, Ivica Zubac needs to be trusted as we all know he is a very solid rim protector and a great finisher. Another player to watch out for is Landry Shamet as he was very solid in Round 1 as a starter where he has a +/- of +37 in Games 3-7 starting but a -31 while coming off the bench.
Also, the Clippers need to get the ball in Kawhi Leonard's hands about every play that he's in. Leonard is averaging 25 PPG against Denver this year in 3 games and he has to be the star on offense and defense this series but his scoring could be limited as Denver recently assigned Jerami Grant to guard Leonard who is very athletic and lanky. Coach Rivers might also want to have Kawhi guard Jamal Murray to start as this season Kawhi has held Murray to 8 points on 3-11 shooting and 2 turnovers while being the primary defender on Murray in the half-court plays. This could also be a breakout series for PG who still is trying to get all the way back on track and who averaged a team high 25.5 PPG on 51.4% shooting vs Denver this year.
Once again, the Clippers need to set the tone and come out fiery and aggressive against this Nuggets team. If this happens, the Clippers have to continue to be aggressive and not settle for shots like they did in the Mavericks series which allowed the Mavericks to come back multiple times.
Clips in 7.