After an incredible 154-111 LA Clippers win over the Dallas Mavericks the other night in game 5, Clippers Head Coach Doc Rivers delivered a very powerful postgame speech. But, the big news story of the game ended up coming after the game where Coach Rivers addressed his thoughts on the recent police shooting on Jacob Blake in Kenosha, Wisconsin that left Blake in critical condition and paralyzed from the waist down.
Doc Rivers with raw emotion and a thunderbolt cry for justice: "All you hear is Donald Trump & all of them talking about fear. We're the ones getting killed. We're the ones getting shot...It's amazing, we keep loving this country, and this country does not love us back." pic.twitter.com/19dHu9UlZ5

— Rachel Nichols (@Rachel__Nichols) August 26, 2020
While fighting his emotions, Rivers touched on how Black people are getting killed, shot, hung, and denied to live in certain communities. He also said "it's amazing to me why we keep loving this country and this country doesn't love us back" and also says that "you don't need to be black to be outraged." His powerful words rang through the NBA and were put into action yesterday in the form of a boycott.
Also, 2 nights ago, an Illinois teen open fired on protesters in Kenosha. TWO people were killed and ONE is seriously wounded as a result of the disgusting act. This violence sparked even more frustration today. As a result of this, the Jacob Blake shooting, and the 400 YEARS OF RACIAL OPPRESSION THAT BLACK PEOPLE HAVE FACED, the Milwaukee Bucks were the first team to decide they wouldn't be stepping on the court and playing today in Game 5 against the Orlando Magic. As it counts as a forfeit and the Magic would win, the Magic declined the win and did the same boycotting the game. Shortly after, Oklahoma City Thunder Point Guard Chris Paul, who is the President of the National Basketball Players Association, and Houston Rockets Point Guard Russell Westbrook discussed the boycott and decided their teams will boycott and after that, the Los Angeles Lakers and Portland Trail Blazers decided they'd boycott their games.
In addition to the NBA games today and yesterday being boycotted and postponed, WNBA players also boycotted their games yesterday and they have also been postponed. In the WNBA, the Washington Mystics players each wore shirts spelling out 'Jacob Blake' and the shirts featured 7 holes on the back of them symbolizing the 7 times that Jacob Blake was shot.
The Washington Mystics lined up to spell out "Jacob Blake" with shirts featuring seven holes on each of their backs. pic.twitter.com/UeNcRSsZj1

— ESPN (@espn) August 26, 2020
Later, the whole WNBA league joined in unity for their advocation of Black Lives Matter in attempt to spark change and demand justice.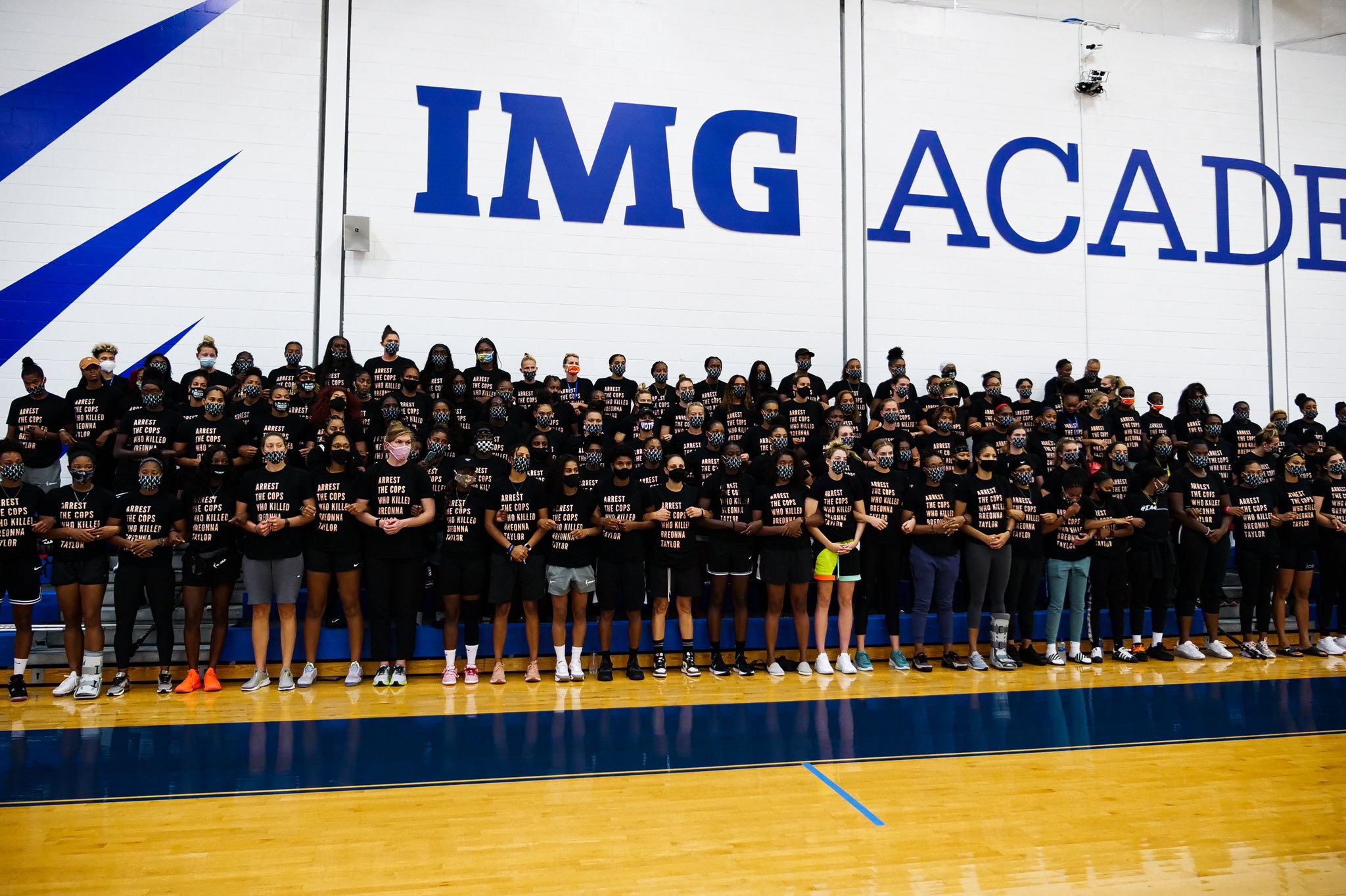 With those 2 leagues boycotting, the MLS and MLB have also boycotted some games and NHL players have boycotted Thursday and Friday games. The boycotts yesterday happened to fall on the 4 year anniversary of the first time that Colin Kaepernick addressed himself kneeling for the national anthem before his game. Many others in the sports world have spoken on the Jacob Blake incident and how police brutality keeps happening in the all over and how they fight and demand justice, change, and equality for the Black Lives Matter movement. Those who have spoken on it include former NBA veteran and current TNT commentator Chris Webber (who was almost brought to tears while addressing it), Jason Heyward (Cubs outfielder), Dee Gordon (Mariners infielder), tennis star Naomi Osaka, Lakers superstar LeBron James, Trail Blazers' Moe Harkless (who revealed his experience with the police), NBA star Donovan Mitchell (who has spoken out multiple times recently), WNBA All Star A'ja Wilson, NBA Champion Robert Horry (who was brought to tears on the subject), Mets first baseman Dominic Smith (who was also very distraught and brought to tears on the matter), and many more. Along with all of those who spoke out, TNT analyst Kenny Smith followed the players' lead and boycotted leaving the set live during the show.
— Ballislife.com (@Ballislife) August 26, 2020
While the Bucks boycotted their game, they also spent significant time on the phone talking to Wisconsin Lieutenant Governor Mandela Barnes and Wisconsin Governor on the recent violent acts and urging police reform. Some players also have horrifying personal encounters with the police such as Sterling Brown who had a knee to his neck and was punched and tased by the Milwaukee Police Department after parking incorrectly and former Bucks Center John Henson who had the cops called on after being racially profiled while he was shopping for jewelry. It was also said that the emotional stress of being inside the bubble, as Paul George recently opened up about, and the Jacob Blake killing sparked the players to snap and start the boycott. As games were being postponed, the NBA had a meeting later that night to decide how to move forward. It was said that Clippers coaches Doc Rivers and Armond Hill and Rockets coach John Lucas spoke out. It was also reported that some of the players who spoke out included LeBron James, Kyle Korver, Damian Lillard, Patrick Beverley, Carmelo Anthony, and Jaylen Brown and that every team took a vote on if they wanted to continue the season. It was said that the Lakers and Clippers did not want to at that time so LeBron James left the meeting room and the Lakers and Clippers followed.
After another meeting today, it was said stances have changed and every team will resume the NBA season as they still try to highlight the bigger picture that is going on, police reform and ending that brutality. A big reason for this continuation is that coaches and players believe if they do leave the bubble, it would take away their huge platform and they want to address the issues now and while they have this platform.