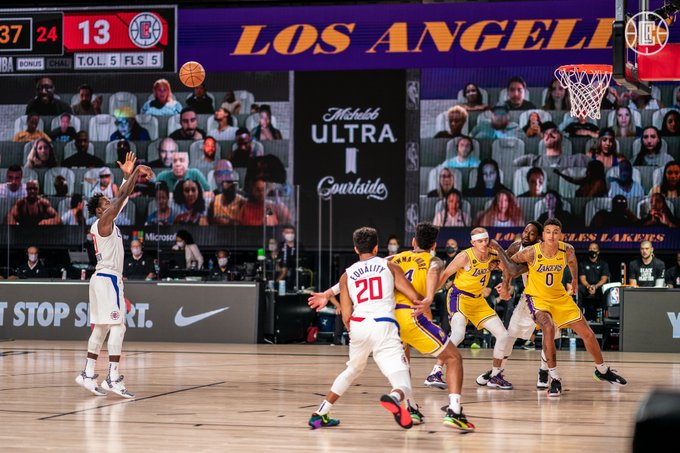 On the night of the NBA restart, the Los Angeles Clippers lost to the Los Angeles Lakers 103-101. With the Clippers, missing their 2 six man candidates in Lou Williams and Montrezl Harrell, Kawhi Leonard and Paul George really had to step up and they did. Leonard had 28 points shooting 7-16 from the field, 3-4 from three, stealing the ball twice, and also blocking 2 shots in 33 minutes and George had 30 points shooting 11-17 from the field on 6-11 from beyond the arc with 5 rebounds and 3 steals.
This game began with players and coaches kneeling for the national anthem with arms locked including Doc Rivers locking his arms with Lakers Coach Frank Vogel and Anthony Davis in an act of social justice and step towards racial equality. The actual game itself started out sloppy with lots of questionable foul calls from Scott Foster and his crew. The Clippers had 13 fouls in the 1st quarter alone. Leonard, Morris, Zubac, Green, Noah, and Beverley each had 2 fouls at the end of the 1st. Also, with Beverley on a minutes limit, Reggie Jackson played 34 minutes and scored 10 points on 10 shots with 4 assists and 4 turnovers.
But, the main reason the Clippers lost this game was in the 3rd quarter. The Clippers were down by 12 at the end of the 1st, slowly came back to cut it down to 2 at halftime, and went on a big run in the 3rd. Paul George hit back to back threes and Kawhi hit a three and the Lakers called a timeout and that's when the downfall really started. PG had to come out the play before Leonard's three because of his 4th foul which was ultimately the reason the Clippers struggled.
Paul George was clearly the games best player as he continued to prove all of his haters wrong this game. Granted, Anthony Davis did have 34 points but shot 8-19 from the field and lived at the free throw line shooting 16-17 there. When the Lakers called that timeout, they were down by 11. There was 7:05 left in the 3rd which is a ton of time in the game but their run after the timeout really swung the whole momentum the Clippers built up from their flurry of threes. With PG sitting, LeBron James hit a three and Davis finished an alley-oop and the Lakers chipped away at the Clippers' lead. Then Leonard was subbed out and the Lakers cut it down to 1 heading into the 4th.
The Lakers went on a 14-3 run to start the 4th and left the Clippers playing catch up for a while. But, the Clippers did come back thanks to Patrick Beverley and Kawhi Leonard. The Clippers cut it down to a 4 point game with 2 minutes left when Doc Rivers surprisingly brought in Landry Shamet who has had a bad game up to this point shooting 1-8. Now it's understandable Doc wanted a shooter in for Marcus Morris who also struggled, but him putting in Shamet was not the right move. He probably would've been better off putting in Beverley who was hot in the 4th quarter. Anyways, Shamet turned the ball over when he entered. PG later hit a clutch three with 28 seconds left to tie it and then LeBron rebounded his own missed shot and finished it to take the lead. The Clippers had 1 last chance and it ended with PG tossing up a three which resulted in the Lakers winning.
Although the Clippers lost, there were a lot of positives from this game from them. They only lost by 2 with Harrell and Williams out, Beverley played ONLY 16 minutes (and did score 12 points), they had guys in foul trouble for a lot of the game and still managed to play aggressive, and players like Shamet, Zubac, Morris, and Jackson struggled when they all probably won't if playing the Lakers again. These are all things the Clippers can fix. One thing that could be worth noting for the Clippers is the substitutions made by Coach Doc Rivers. We know that Ivica Zubac doesn't usually play in the 4th quarter, but with Montrezl Harrell out we though we'd see more of him. We didn't. This may be because of how he struggled a bit with rebounding this game but Rivers doesn't usually play him anyways in crunch time when he should because the Clippers need rebounds (as showed by LeBron getting his own and making the game winning putback). Also it was strange that Doc continued to play Shamet when he was obviously struggling and play Reggie when he wasn't great in the 2nd half when Beverley played well in the 4th and when he didn't put in Terance Mann or Rodney McGruder at all. Other than those, Rivers coached well as he continued to fight for his team and did make nice calls with inserting Patterson and Green into lineups more who both played well. It was also nice to see Amir Coffey and Joakim Noah contribute well in their limited minutes.
But, while some of the Clippers looked a bit rusty, Kawhi Leonard and Paul George didn't miss a beat which is a very good sign to see. With a few tweaks, the Clippers are bound to keep winning like they did before the season was suspended. The Clippers next play the Pelicans (who need to win to fight for that 8th playoff spot at) at 3PM PT.